Couple's vision, hard work play out at Crabapple Farm
Story by Leslie Lynn Lucio | Photos by Leslie Lynn Lucio and Dominic Perri
When Tevis and Rachel Robertson-Goldberg met for the first time at a contra dance, they probably didn't realize then that they would be running a successful farm together 12 years later.
Back then, Tevis was in his first season at Crabapple Farm. He would bring eggs from the farm along with brochures advertising available CSA shares. Rachel signed up for a share that season. The two of them saw each other more frequently and, as the story goes, they got married and now have two children.
Crabapple Farm was founded 12 years ago by Tevis and his family. The Southampton property had been a working dairy farm, but the previous owner went bankrupt and the land was abandoned for eight years before Tevis and his brother's family acquired it.
Soon after Crabapple was established Rachel and Tevis were running it together, along with the help of apprentices and a small crew. Before meeting, both Tevis and Rachel had worked on farms, so their shared experience made it an ideal way of living for the two of them. In the years since, they have created a diversified farm that carries on traditional farming principles––following a natural model that enhances the health and productivity of their crops and livestock.
Crabapple farm offers a lot to the community. Tevis was always drawn to growing vegetables and raising livestock, or finding ways to educate people about growing their own food.
"I wanted to do both, but it's really hard for one person to do that so I was thinking a farm where it would be more of a community thing, where there is one person with this operation and one with that operation, but it's all integrated in a beautiful symbiotic way that works really well. So that was sort of the notion I had: animals, vegetables, maybe dairy, draft animals, everything. Everyone else thought that sounded reasonable," says Tevis.
Through the summer season the farm grows over 50 varieties of vegetables including many heirloom varieties, as well as some fruit. There are two fields that make up the farm and a greenhouse where they grow seeds for seedlings for the farm and to sell to the public. Rachel and Tevis are avid seed-savers––they save many of their seeds from several crops, as another way to follow ecological principles. Both of them encourage people to also grow their own food, so they sell seedlings every spring as they believe home gardening is an important part of the local food system.
To help with cultivation of vegetables this year, they will be using a pony for the first time. In previous years, they have used draft horses and a team of oxen, which worked well but didn't fit just right into their system. They aren't sure about how the pony will do, but they are very optimistic about him.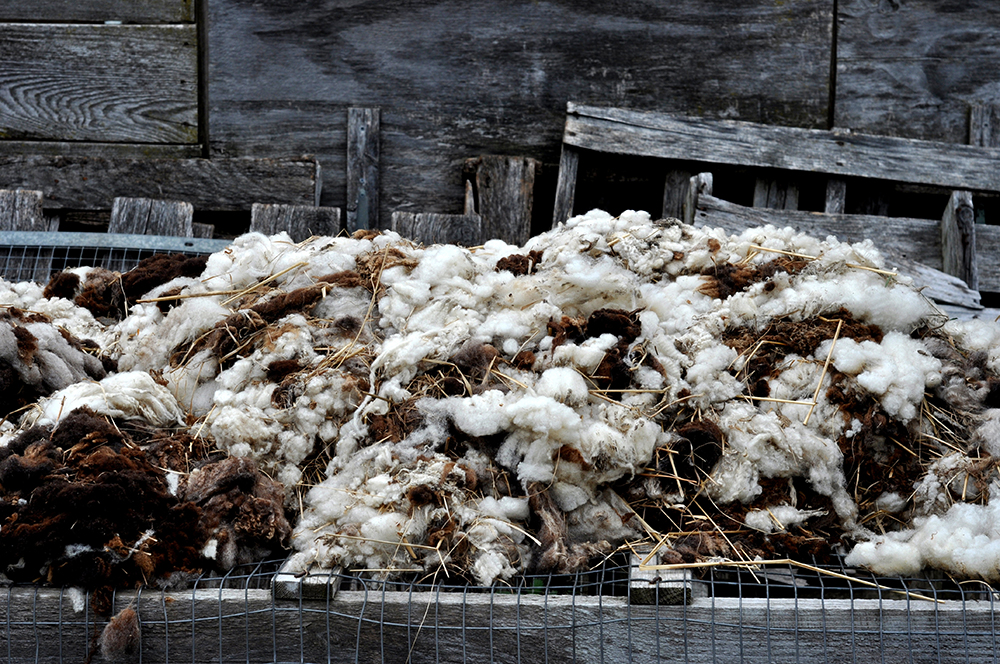 Livestock is an integral part of the farm. To help with improving the land and raising healthier livestock, they employ rotational grazing on the pasture. Currently, they have about a half dozen breeds of cattle, including a Jersey and Normande for dairy and Belted Galloway, Angus, Red Angus and Hereford breeds for beef. The farm is also home to over 50 sheep, with four rams and the rest ewes, 43 of whom they expect to lamb this year. Rachel and Tevis share the livestock management, with Tevis focusing on the fencing and rotation while Rachel does more of the animals' health care and decision making.
The two work well together and have created a balance between them and work on the farm. "In the summer, I'll go in and take care of the vegetables and Rachel will go in and take care of the animals," says Tevis. It's taken years of figuring out what works best for their community, the farm, and themselves, but are still learning new things as they come along. As Rachel says about the farm and their relationship to the sheep, the tomatoes, the winter squash, and everything that grows on the land, "We're engaging in a partnership as it's fully existing here, thinking more of our farm as a partnership."
Leslie Lynn Lucio has enjoyed cooking and baking since she was a small child, as well as being an involved member of the local community. She can found at LeslieLynnLucio.com.